Wheelchair Accessible Vehicles, Handicap Vans for Sale, Mobility Van Rental, and Handicap Accessible Vans in Cambridge, OH
Having reliable transportation is essential when you have moderate or severe mobility issues. Traditional cars and vehicles may not fully offer the safety and features that scooters, wheelchairs, and power wheelchairs need. At Marietta Mobility Service, we offer several different options for wheelchair accessible vehicles in Cambridge – we have both wheelchair van rental and wheelchair accessible vans for sale with different options and features.
Rear and Side Entry Access Vehicles in Cambridge, OH
Our business was designed to give residents throughout the Ohio River Valley access to the Handicap accessible vans that will allow them to continue their lifestyle and enjoy their time with family and friends. We have all types of wheelchair accessible vans for sale including preowned and new handicap vans for sale.  And if you are in search of special features or something we do not currently have, we will look to find the right wheelchair accessible van for you.
Our Marietta location carries both types of handicap vans for sale – rear entry access vehicles and side entry access vehicles for Cambridge residents. You may already know which you are interested in, or our sales staff can over the differences and help you decide what is best for you and your family. Many times our customers want to consider who is driving, who is also going to be riding in the van and where the van is stored. We know this is an investment in your future and want to help you find the right wheelchair-accessible van that is right for you and your family.
Buy or Rent a Wheelchair Van in Cambridge, Ohio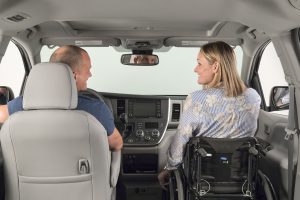 If you ever need to find handicap-accessible vans in Cambridge for just a temporary period of time, we have numerous models available for daily, weekly and monthly mobility van rental. Customers decide to rent our accessible vehicles for several different reasons including medical appointments, special functions, or vacations.
Visitors, even buses of visitors, come to Cambridge to visit the National Museum of Cambridge Glass in downtown Cambridge. Visitors can learn about the rich history of the Cambridge Glass Company including seeing over 10,000 pieces of Cambridge Glass as well as experiencing what the work life was at the factory many years ago. Visitors can see full table settings from past eras as well as glass used in feature films. The museum is located along state route 22 near the junction of interstates 70 and 77.