Accessible Vehicles, Handicap Accessible Vans, Wheelchair Accessible Vans for Sale, and Wheelchair Van Rental in Wheeling, WV
Welcome to Marietta Mobility Services, your source for wheelchair van rental and handicap vans for sale in Wheeling, WV. We work with a range of top wheelchair accessible vehicles for Wheeling residents so they can get to their appointments and live life to its fullest. We know we can find a vehicle that will include the features and budget range you are looking for. If we do not have it currently available, we will help source the the vehicle you want and covert it into the wheelchair accessible van that fits your needs.
Side and Side Entry Access Vehicles in Wheeling, WV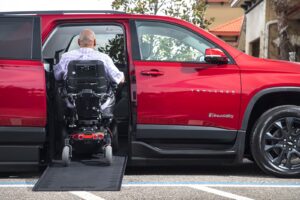 When it comes time to look at wheelchair accessible vans for sale in Wheeling, contact Marietta Mobility Services and we will match you with the right van. There are many different makes and models including rear entry access vehicles and side entry access vehicles. The type of vehicle you choose will depend on the ramp width you want, the number of passengers you want to accommodate and more. Some people that store their van in the garage or have narrow driveways prefer rear entry handicap vehicles. Others are more comfortable with the features of side access entry van. Whatever you are looking for, even power and remote-controlled ramps, we will help find it for you.
Buy or Rent a Wheelchair Van for Wheeling, West Virginia
Mobility van rental is a great option when you know ahead of time of a medical appointment or an even a social activity to go to. Continuing with activities and network of friends is a great way of enriching one's life. We offer different options in mobility van rental in Wheeling to accommodate daily, weekly, or monthly rental so you have the freedom to do what you want, including going on vacation or to a special function.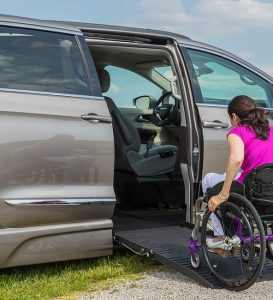 Our handicap accessible vans in our rental inventory include the following features:
Maintained and serviced by our own service department
Convenient deliver and pick up
Airport delivery available
High-quality, premier vehicles
Fit scooters, motorized wheelchairs
Contact us as soon as you are interested in wheelchair van rental in Wheeling, and we will get the right van reserved for you.
Wheeling, West Virginia was once a large town of 60,000 with heavy manufacturing industry because the city was located along major transportation routes including the Ohio River, National Road and the B&O Railroad. Unfortunately, many of the factories closed after World War II and the city experienced a substantial population loss. Today the city has approximately 40,000 residents and the city's industries include healthcare, education, and energy services.