Stair Lifts, Straight Stairlifts, Curved Stair Lifts, and Chair Lift for Stairs in Athens, OH
Let Marietta Mobility Services help you stay in your home as long as possible by installing one of the many different models of stair lifts we carry. Perhaps you have an older Victorian home in Athens that you love and don't want to leave. Maybe your home is newer but isn't set up properly for aging in place. No matter the reason or situation you are facing with your particular home, Marietta Mobility Services has a stairlift solution for you!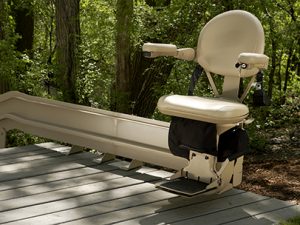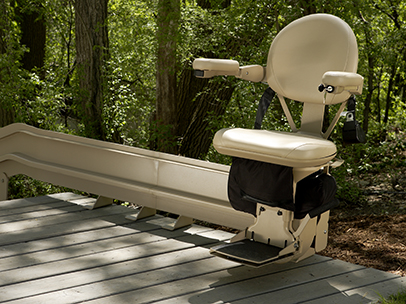 We offer many advantages for stairlifts in Athens including:
Locally Owned and Operated
Excellent Customer Service
Industry-Leading Product Warranty
1 year Service Warranty
Stairlifts Proudly Manufactured in The U.S.A.
Quick Friendly Service Within 24 Hours
Competitive Pricing Guarantee
Financing Available (Up To 12 Months No Interest)
Straight Stairlifts in Athens, OH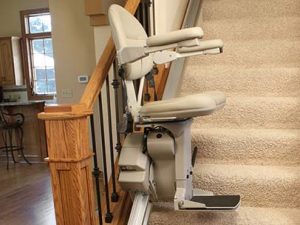 Some homes in Athens are similar with a straight stairwell going through the center or on one of the outside walls. We run into many customers with concerns regarding straight stairlifts in Athens because they do not think their homes walls and stairs can support any type of chair lift for stairs. After all, many of the homes in Athens were built before the heavy appliances of today's technology.
But you might be surprised about what a chair lift for stairs requires. First, stairlift rails are attached to the steps of the stairwell over supporting beams, not the wall or railing. Also, there are some models of straight stairlifts that are extremely compact and even have seats and footrests that fold up when not in use.
Need an outdoor mobility solution for your front porch, back deck, or similar? We also offer vertical platform lifts, ramps, and outdoor stairlifts for Athens homeowners!
Curved Stair Lifts in Athens, OH
If you home has a switchback, curved stairwell, or anything else besides a straight stairwell, then there is still the option of curved stair lifts in Athens. Curved stair lifts were designed to extend the options for homeowners that need mobility assistance in their homes. You can even take advantage of the curved stair lifts in Athens made for outdoor use. Now you can enjoy your deck or other outdoor areas' previously off-limits.
Stair Lifts in Athens, Ohio
Anyone from Athens OH might describe their city as a "college town". The city itself has a population of 23,000 and the town university, Ohio University, has an enrollment of over 20,000. The state of Ohio was only one year old when Ohio University was first chartered in 1804 and the University is famous as it was first in the Northwest Territory, today known as the Midwest, to offer higher learning.
How many times a day do you go up and down your stairs? Going down to breakfast, back up for a sweater, up again to take the laundry, and finally at night to retire for the evening. No doubt there might be a few more trips up and down. When you have mobility problems such as joint issues, balance concerns, or tiredness, stairs become a real issue. The good news is that Marietta Mobility Services can get you back to easily and safely navigating the stairs in your home with a stairlift installed in your Athens, OH, home!